Location: The gallery is located inside Mary Evelyn at 2815-A 18th Street South in downtown Homewood. We are behind Ruby's Children's Clothing and across the parking lot from Tria Market.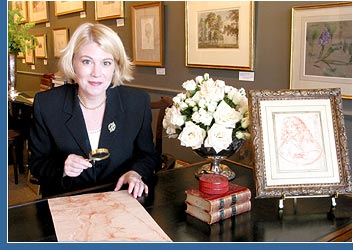 Amanda Schedler
photography by Robbie Caponetto

Gallery hours are Monday - Friday, 10:00am - 6:00pm and Saturday, 10:00am - 4:00pm. Because of the extent of the gallery's holdings, we encourage clients with specific interests to make an appointment so that work may be pulled out ahead of time for easy viewing.

Amanda Schedler Fine Art, formerly Schedler Minchin Fine Art is located in the Birmingham, Alabama suburb of Homewood. We are proud to build upon a three-generation family tradition of selling fine antiques in the southeast, which began with the foundation by Ms. Schedler's grandmother of Mary Adams Antiques in 1947. The tradition continued when her mother started AMW, an estate jewelry and silver business, in 1980. Amanda Schedler Fine Art opened in the fall of 2001. Amy Crawford Minchin joined the gallery as a partner in 2005, bringing with her a passion for contemporary art and taking the business in new, exciting directions. The gallery name was changed to reflect this dynamic partnership. When Ms. Minchin moved with her husband to Charlotte, North Carolina in 2007, the name of the business returned to Amanda Schedler Fine Art. Amy Minchin contributed an extraordinary amount to the success of the gallery and is much missed.
In January 2007, acclaimed designer Mary Evelyn McKee joined Amanda Schedler in the gallery space. McKee's business -- named simply "Mary Evelyn" -- brings with it distinctive furniture and objects of modern sensibility and classic quality.
Schedler, who earned a bachelor's degree in fine arts from Harvard University and a doctorate in art history from Bryn Mawr College, specializes in European works on paper from the 17th to the early 20th century. In addition to antique works on paper, the gallery's collection encompasses contemporary Southern art of significance, including the work of Arthur Price, Drew Galloway, Jim Burnett, Ashley Wiltshire Spotswood, Ken Procter, Kathryn Kolb, Clayton Colvin, Betty Edge, Thomas Tucker, and Lisa Michitti. Schedler is an occassional contributor to Southern Accents. She is married and has two young children.
The gallery hosts four to ten shows a year. Each month there is new work to see. Please click on the calendar page of this website for more information about current and upcoming exhibitions.
Click here to read the latest article by Southern Accents featuring the gallery
Click here to read article by Southern Accents.